Alcudia offers a journey of new experiences to discover
and enjoy 365 days a year.
Alcudia, the essence of the Mediterranean
Alcudia offers a journey of new experiences to discover and enjoy 365 days a year.
Located in the far northwest of Mallorca, between the bays of Alcúdia and Pollença,
it is one of the most fascinating landscapes on the island,
a peninsula where the whimsical forces of nature have coloured and sculpted the landscape.
This unique enclave, with its temperate Mediterranean climate and where history, legends and traditions converge,
has hidden wonders that further accentuate its beauty and havens where silence has not yet been dethroned.
Alcúdia is full of character, rooted in its origins and the essence of the place, and capable of enticing generations of travellers from all over the world in search of authenticity.
Alcudia is one long exquisite suntrap, with 30 km of coastline and 18 magnificent beaches, each one different from the last. Together they encompass an extraordinary array of possibilities, from absolute tranquillity and relaxation to exciting leisure activities.
Ideal wind conditions and optimal infrastructures both on land and in the water make this is one of the best bays in Europe for both amateurs and professionals wishing to practice their favourite water sports.
Every water activity you could dream of is catered for here, from snorkelling, scuba diving and sailing in all its forms,
to kayaking, windsurfing, paddle surfing, kite surfing and fishing, to name a few.
Extensive pine forests, miles and miles of fine white sand, small coves with crystal clear waters and a gentle sea breeze.
Visiting Alcúdia and not seeing birds is practically impossible. Birds here are omnipresent.
Given the wealth of existing habitats and protected nature reserves, there are now more than 200 species of birds; marine, coastal, urban, forest, agricultural, mountain and wetland, some common and ubiquitous, others very scarce and localized, present in our environment at different times of the year.
Alcudia Sports
Alcúdia`s trails and mountains are perfect for hiking and cycling. For the active sports lover, Alcúdia has the high end infrastructure needed to provide all kinds of training camps and sporting events throughout the year.
Countless activities are on offer, for any type of training both individual and collective, as well as to prepare and take part in competitions and races.
A temperate climate, good connections with the rest of the island, a varied terrain and full calendar of events throughout the year make this a unique destination for outdoor sports. The Townhall and local hotels have adapted their facilities and services to make the town more sport-friendly.
For cycling enthusiasts, we have 24 cycle routes of varied degrees of difficulty and distance, for every level from beginner to pro, from the coast to the interior of the island and among some of the most beautiful and changing landscapes of Mallorca. Thousands of athletes, both professional and amateur, visit us every year from all over the world.
EXCURSIONS
Mallorca is the perfect place to plan your holidays.
It is not only the paradise of beaches. Mallorca can offer you a large number of activities and excursions that will make you enjoy your holidays in Mallorca and make them unforgettable days.
What to do in Mallorca?
You can visit Cathedral, nice beach days, go shopping, adventure sports, play golf, visit cellars and much more…
BEACH IN MALLORCA
There are 262 beaches in Mallorca with a total length of 50 km. You can find lonely calas, sandy family beaches or rocky bays…enjoy Mallorca's amazing coastline!
These are some of the top beaches in Mallorca:
Cala Agulla, Cala Mesquida, Cala Torta, Portals Vells, Formentor, Illetas, Son Serra de Marina, Cala Llamp, Cala Estellencs, Cala Tuent, Puerto Pollensa, Cala Estreta, Cala Mitjana, …
---
MALLORCA CELLARS
In recent years Mallorca has become a reference in terms of the quality of its wines and the number of wineries, here we present a list of all wineries in Mallorca
---
CAVES OF THE DRACH
The caves of the Drach are four large caves found on the island of Mallorca, archipelago of the Balearic Islands, Spain. They are in the municipality of Manacor, near the town of Porto Cristo
---
GOLF IN MALLORCA
Mallorca has 25 golf courses of great quality
The current offer of golf courses in Balears is 25 courses, of which 23 are in Mallorca. The great majority are 18-hole courses, being Pollensa and Golf Santa Ponsa III of 9 holes.There is also a pitch & putt tour at Golf Son Quint.

---
BIKE IN MALLORCA
RIDE THE BEST OF MALLORCA!
Enjoy different routes visiting villages, nice places and gastronomy
---
MARKET DAY IN MALLORCA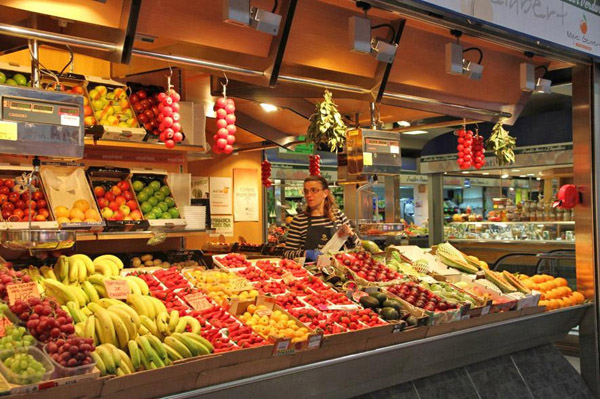 The markets in Mallorca are a great way to get to know the island and the people who live here.
Every day from 9:00 a.m. to 13:30 p.m., there are several markets, the most important being the Sunday market in Pollença. This market is visited by thousands of people from all over the island.
Other good markets to visit are the markets of Santa Maria (also on Sundays), Sineu (Wednesdays) and Inca (Thursdays).
The markets in Mallorca are an excellent place to buy fruit and vegetables, local products such as Mallorca sobrasada or butifarrón and cheese. There are also markets that offer various handicrafts, leather handbags, handmade jewelry, accessories and clothing.
---
PALMA'S CATHEDRAL
The Cathedral-Basilica of Santa Maria de Palma de Mallorca also called Mallorca Cathedral is the main religious building on the island of Mallorca. In Mallorcan, it is known as La Seu.
---
BELLVER CASTLE
The Bellver castle is a fortification of Catalan Gothic style. It is located about three kilometers from the city of Palma de Mallorca
---
SERRA DE TRAMUNTANA
The Serra de Tramontana is the main mountain range of the Balearic Islands. The sierra is located in the northwest of the island of Mallorca, hence its name, since the tramontana is the wind that arrives from that direction
---
PALMA SHOPPING
A visit to Palma, the cosmopolitan capital of Mallorca, will reveal the reason for which it is considered as one of the jewels of the Mediterranean.
Palma has many narrow and interesting streets to stroll around and visit the local shops, where you can find artisan products from the island. Here we present the guide for shopping in Palma de Mallorca.
Palma's shops are open on Sundays and public holidays from April to October
---